All your live business data curated into a single dashboard
If data is king, then Jigsol Analytics can make you an emperor! That's because with our customised digital dashboard, you can view any number of live data sources all presented in one place and accessed through your web browser. Jigsol Analytics can pull in any data point that you control, from daily revenue to site visits, social media mentions to footfall, labour costs to bookings. This will deliver an incomparable helicopter view of your entire business, allowing you – or Jigsol Accountancy if we act for you – to securely access your real-time data any time of day or night. If you need to, you can then take instant action to adjust course or make alternative plans before problems arise, giving you the power of foresight through knowledge.
We'll build the bridge that connects your critical data
Jigsol Analytics software provides real-time business reporting that will help you understand the dynamics of your business 24 hours a day, everyday. We don't just provide you with software; we also include a fully managed support service to go with it. We'll onboard you and set-up the data feeds exactly as you want them, hand-holding as much as you need and maximising the platform so that you gain the most out of your instantly accessible data.
We'll integrate all types of data sources and reports for you, including stock levels, point-of-sale, booking systems, social media, lead generation and sales. If you are running Jigsol Rota as part of the Jigsol ecosystem, we'll connect that up too, delivering a comprehensive live snapshot of your business's current position.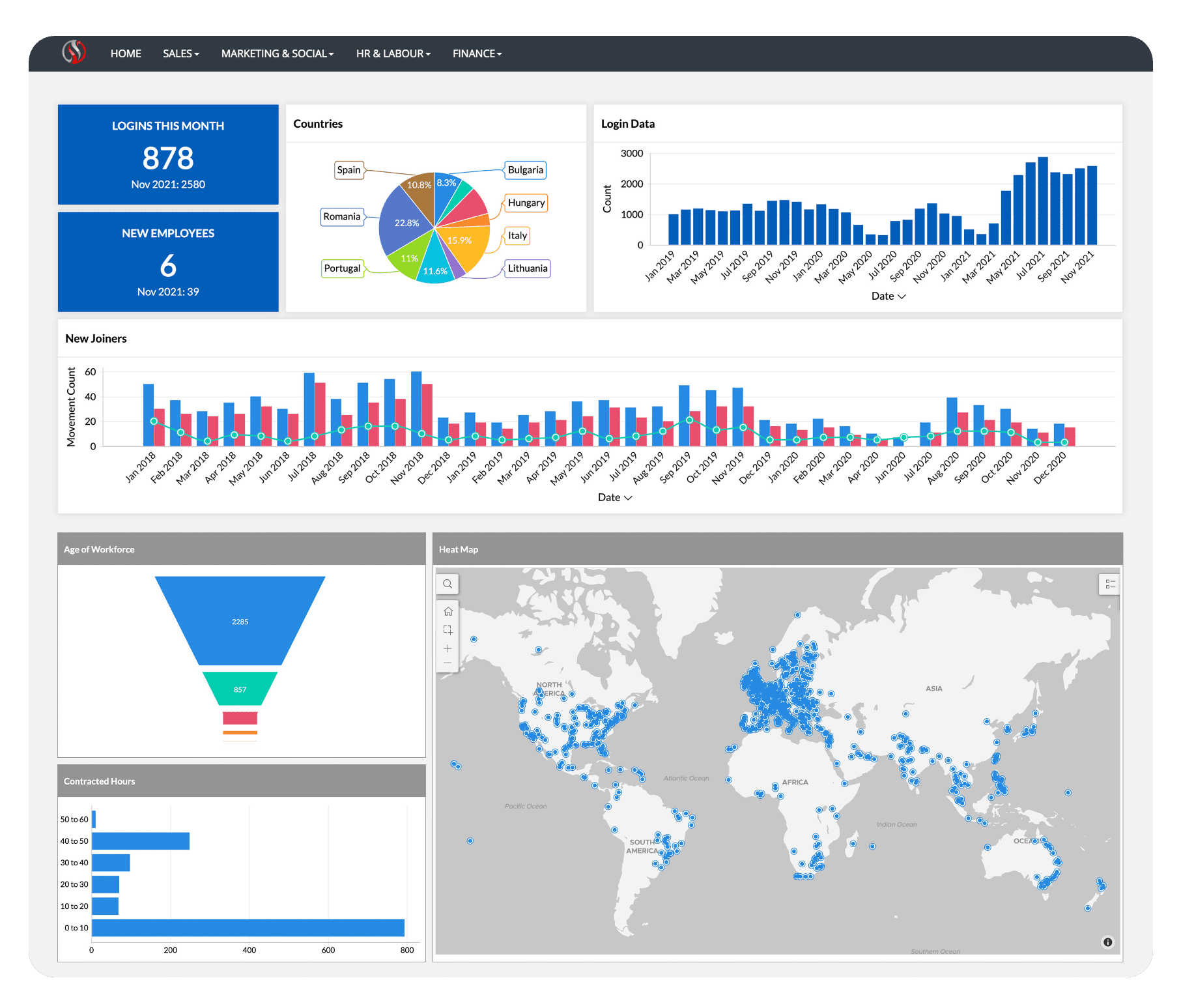 See the health of your business in real-time, anytime
All data is presented in understandable, visual graphics such as tables, pie charts and scatter graphs, rather than rows and columns in spreadsheets. Viewing this data will enable you to identify the most profitable or critical areas of your business (even show you where you might be losing money right now) creating the opportunity for you to take appropriate action. As the software is accessed through a web browser, you can use it any time of day or night on your desktop PC, Mac, laptop, iPad, tablet or smartphone.
Jigsol Analytics is permissions based which means you can control exactly who has access to what data. You can limit what different employees or departments can see, from excluding whole data sources entirely, right through to hiding specific data fields on a particular data source. We also offer the option of a white label version of our platform, which can be branded with your own logo, colours and bespoke URL or subdomain.
By engaging Jigsol Accountancy as well, you'll also have the backing of our expert team of accountants and advisors who'll always be able to see the complete picture of your business health at any given time.
Find out how you could be seeing your most critical business data all in one place, anytime.
Total visibility
Jigsol Analytics bridges all your key data by pulling it into one cloud-based platform. Your data will be available to you in real time, accessible from anywhere in the world via a web browser.
Power your data
Housing all relevant internal and external data together allows you to review every element of your business in real-time, giving you the power to react quickly and identify inefficiencies.
Boost lead generation
Formulate the perfect equation to find the best channels for lead generation. Jigsol Analytics analyses social media and marketing efforts to maximise the ROI on your marketing spend.
Sales
facts fast
With Jigsol Analytics you can extrapolate reports in a digestible format in no time, helping you review and understand your company's growth areas and your income on a granular level.
Track income and
expenditure
Jigsol Analytics keeps track of your income and expenditure by helping you predict your staff levels, analysing booking system data and reflecting external factors such as weather and societal trends.
Enhance
social media
The reach and awareness that social media offers a business is fundamental to its growth and image. Jigsol Analytics can analyse your engagement and help you strategically plan to improve your ROI.
Clients we have worked with
What our clients say
We use Jigsol Analytics to view many things about our business that would take hours to do manually. I can track my social media, how many call back requests we've had & pull reports off in minutes. It's so easy to manage my business when I have clear numbers to base my decisions on.
Get in touch
We'd love to hear about your business and demonstrate the value we would bring. Let's talk.